My grandfather owned a great number of coaches

which operated in Hythe and all the surrounding areas. Below is a photograph on the old A20 from Newingreen to Cheriton. The leading coach 831 MKK is a Bedford SB1 with a Duple body type C41F. It was purchased new in November 1960 and was sold on to Elliot's of Jamestown in May 1963.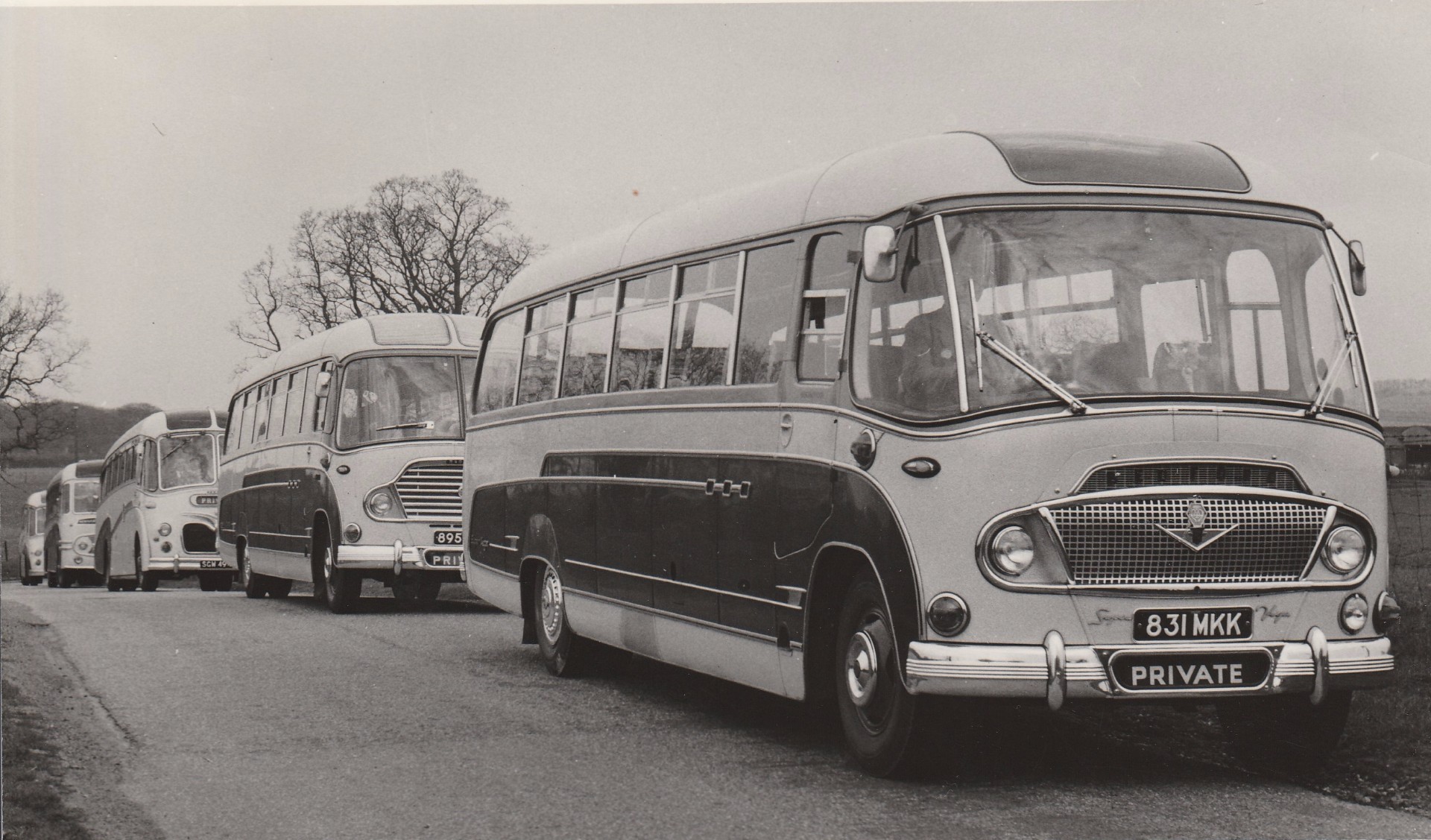 The coach business started around 1921 with the operation of a bus service between Hythe train stations and the town centre with buses pulled by a single horse and a pair of horses. This service was also unique since it was a door to door service. These services were previously operated by S.E & C Railway.
In 1924 the horses were exchanged to motor transport. The fleet included a 14 seater bus registration number KO 1273 which was a Morris Commer. Also a 14 seater charabanc reg number FN 8636 and later on, 20 and 26 seater coaches for private hire. (KJ 6328, KP 7345, JG 3511 and KR 1467.)
Private hire business increased during the 1930's necessitating the introduction of 30 and 32 seater coaches.
Due to financial difficulties in 1934, C.J. Newman & Sons took over the service that had been previously run by "Wanstall of Hythe". Their coaches ran between Hythe and Ashford via Lympne, Aldington and Mersham. An attempt to improve the image of his service by the replacement of older stock by two new Bedford 20 seaters probably only accelerated the collapse of his firm.
Also in April 1945 Newmans took over the business of Mr A.R.Allen ("Bob Allen") of "Allendale", Park Road Hythe. For the sum of £2500 the company acquired the Stock in Trade, Garage Equipment, two Austin four seater cars, one Dodge 26 seater coach and the house and garage situated in Park Road and Victoria Road, Hythe. What a bargain!
Due to a limited number of motor cars income from coach services enjoyed tremendous growth after the war and for many years the fleet of Newman's coaches was around the 18 – 20 mark.
In 1960 however the private hire business was beginning to decline and gradually the costs of keeping the coach fleet, in reasonable condition, mounted and with little ceremony and to the surprise of almost everyone, Newmans suddenly ceased operations and handed over their licences to East Kent on the 6th May 1963.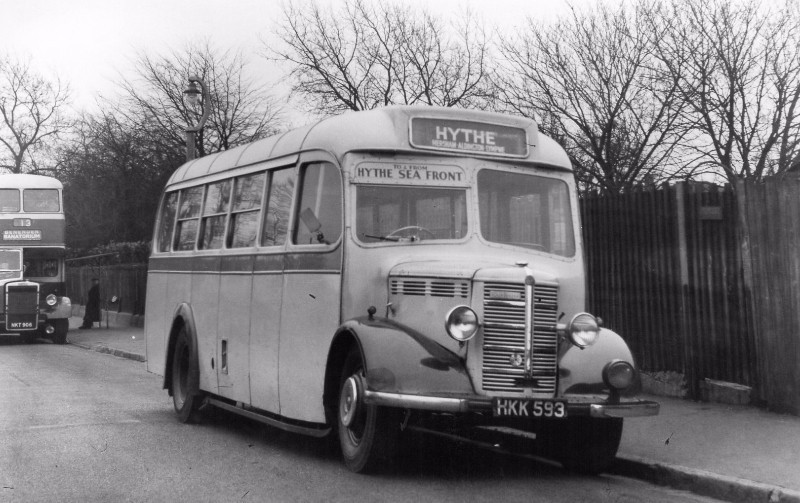 Here is coach HKK 593 to and from Hythe Sea Front to Mersham, Aldington and Lympne. This was a Bedford OB 11061 on a Duple B32F chassis. It was purchased new in 1945 and sold on in February 1957 to Moore's in Windsor.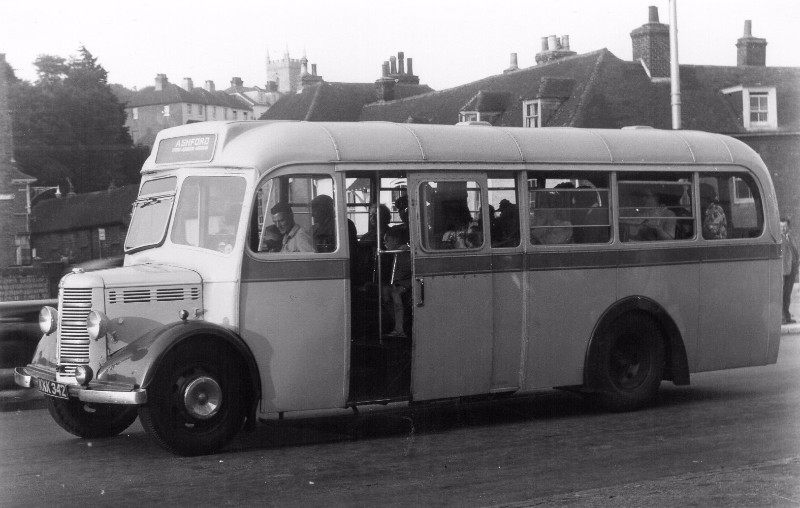 This coach is KKK 342 in Hythe's Red Lion Square. Another coach on the Ashford run. This was a Bedford OWB 68793 on a Mulliner B31F chassis. It was purchased new in February 1948 and sold on in October 1955 to Terson (contractor) in London N3.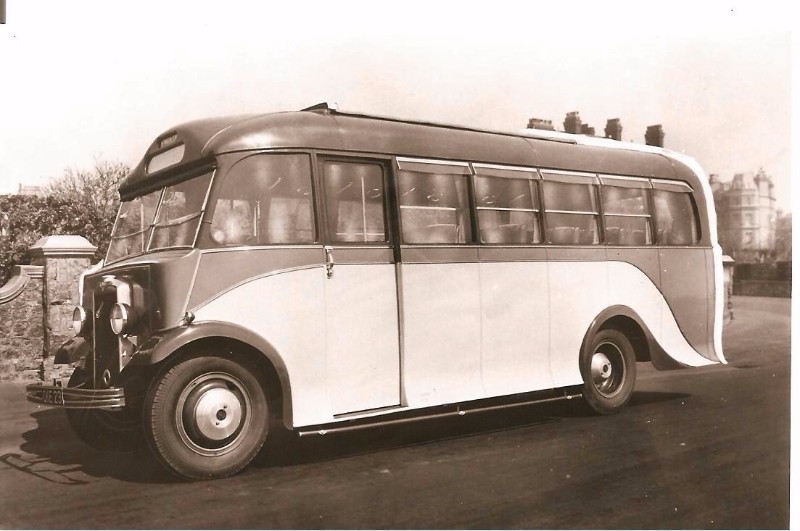 This coach is CKE 23 in what looks like the Leas in Folkestone. The coach was purchased as new in 1935 and sold on in January 1948 to Rowland ("Rambler") of St Leonards. It is a Commer 59040 on possibly a Duple C26 chassis.